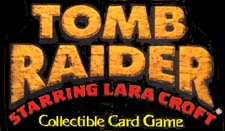 Last Updated: 9-4-99
Lara Croft's Adventures continues with a beautifully done Collectible Card Game.
Think, Move, Search and Fight your way through the tombs, catacombs, and ruins of the world of Lara Croft. Save your game, Upgrade your characters, and Face increased difficulty as your venture deeper into this revolutionary card game from Precedence Entertainment.
Play solo or with two or more players.

..........

...........

AVAILABLE IN SEPTEMBER
Also coming in DECEMBER, the first expansion series for Tomb Raider called:
"Slipper When Wet" wich will focus on water terrain, creatures and weapons in the South Pacific setting. A total of 150 cards for the set.
-Bill